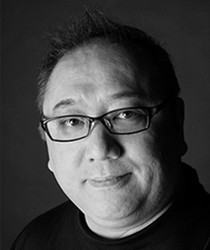 Biography

He started his career in senior year of college, in 1987 when he and his friends placed the FIRST at "From A / Commercial Song Contest" held by Recruit Co.Ltd.

Then he decided to pursue music composition for TV commercial music.

Meanwhile He secured a record deal with Toshiba EMI Co,Ltd and released "Just Only Love" as a singer-songwriter in1996.

Since then, he has been expanding his career in composition, arrangement and chorus work.

In 2004, he took a chance upon the film music composition for the movie "Appleseed". This is where his career of the original score making for many films started.

Movie

APPLESEED, APPLESEED α, Ex Machina, BIOHAZARD Degeneration (Resident Evil), Fullmetal Alchemist (2017), Space Pirate Captain Harlock, PAC-MAN and the Ghostly Adventures (TV ANIME), Marvel FUTURE AVENGERS (TV ANIME), Iron Man: Rise of Technovore, Starship Troopers: Invasion, Starship Troopers: Traitor of Mars, Halo Legends, Marvel Anime: Iron Man, X-men, Blade, Wolverine, Dragon Age: Dawn of the Seeker (Blood Mage no Seisen), The King of Fighters, Ai No Kusabi, After school midnighters (Music:Reiji Kitazato), Otakus in Love, La Maison de Himiko

Compose and arrange

KAT-TUN, ARASHI, Hey!Say!JUMP, NEWS, Megumi Hayashibara, Kenji Niinuma, Chiyo Okumura,etc.

Chorus

SMAP, KinKi Kids, ARASHI, V6, Exile, Kumi Koda, Hiromi Go, Seiko Matsuda, Shinichi Mori,etc.

Commercial

TOYOTA, NISSAN, JAL, BANDAI, UNICEF, NTT, Panasonic, etc.